News release – for immediate release
Double Honours for Gluten Free Goodness at World Gourmand Cookbook Awards
Mother and daughter team Mary and Vanessa Hudson has always been passionate about cooking and eating great food, so when three family members were diagnosed with Coeliac Disease and Gluten Intolerance, they embarked on a quest to make gluten free food that was every bit as delicious as the wheat-based alternatives.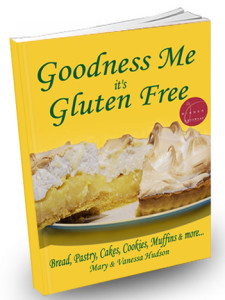 It's a labour of love that paid off; their book, Goodness Me it's Gluten Free won third best Health Cookbook in the World and was also announced Best First Cookbook in New Zealand at the Gourmand World Cookbook Awards in France.
Vanessa Hudson says the honour of winning is made even sweeter knowing she is providing people with the secrets to making delicious, gluten free food.
"When I was first diagnosed as gluten intolerant, eating became an ordeal – always making sure I avoided all the delicious looking gluten containing foods while trying to stomach  the crumbly, cardboard or brick like, gluten free bread and baking that was on offer at the time".
"As a frustrated foodie I was determined to find ways of making delicious, satisfying, recipes that are as much of a joy to cook as they are to eat."
Goodness Me it's Gluten Free is a culmination of many hours' spent by Mary and Vanessa in their Tauranga kitchen mixing, matching and hatching new recipes.
They both agree that no one should miss out on one of life's simplest pleasures. "Eating food that is both visually appealing and packed so full of flavour that each bite is a delight to the taste buds."
Goodness Me it's Gluten Free focuses on baking, which is often the most difficult to make delicious and without gluten. It is full of everyday favourites such as pastry, cakes, cookies and muffins. There's a whole chapter dedicated to bread, buns, sandwiches and pizza. It contains something to fulfill every craving from sweet treats through to savoury pies and quiches.
Parents will be pleased to see recipes that are ideal for lunchboxes, snacks and kids parties.
All the recipes in the book are made from only two special flour blends that you are taught to make from gluten free flours that are readily available in supermarkets and "bulk bin" shops.
Vanessa adds that all the recipes in the book are quick and easy. "Better still, your friends won't know the difference between your gluten free baking and their alternatives!".
Mary and Vanessa are back in the kitchen mixing together ideas for their next book on party foods and there is another in the wings full of lunch box ideas.
About the authors
Goodness Me Ltd was established in 2008 by mother and daughter Mary & Vanessa Hudson whose family first encountered the need to eat gluten free because of a Coeliac diagnosis more than 14 years ago, and the subsequent discovery that in fact ¾ of their family were affected with varying degrees of gluten intolerance.
Initially, Goodness Me made gluten free bread and baking mixes according to a secret family recipe, which were sold through their online shop www.goodnessme.co.nz. But over the years they'd developed so many tasty recipes for baked goods they decided that writing a cookbook was the best way to share their secrets.
Mary Hudson brings  decades of experience as a laboratory scientist to the business. Her skill in scientifically mixing and matching gluten free ingredients accounts for much of the recipes' success including the breads that rise like store-bought loaves.
Vanessa Hudson has travelled widely and brings her global food knowledge, photography and marketing skills to the business.
Coeliac Awareness Week 26 May – 1 June 2013.
Goodness Me it's Gluten Free  |  Mary and Vanessa Hudson  |  Published by Goodness Me Ltd  |  NZRRP $29.95 | Available at selected bookstores and www.goodnessme.co.nz
For further information, an interview opportunity or recipe extract enquiries please contact: Penny Hartill, Hartill Communications Ltd 09 445 7525, 021 721 424, penny@hartillpr.co.nz
Return to Press Kit