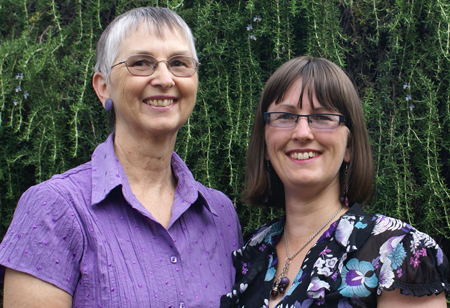 Hi, we're Mary & Vanessa – otherwise known as the team behind "Goodness Me"
More than 20 years ago we started out on a mission to make a decent loaf of gluten free bread, one that we would love to eat! Little did we know that a decade and a half later we would have developed 100s of gluten free recipes, created two versatile gluten free flour blends, published a couple of Gourmand "Best in the World" Award winning cookbooks and shared our gluten free cooking tips with people all over the world.
Our focus always has been and still is, to help everyone who is gluten free to learn to love food again, and in doing so to embrace this gluten free life and be freed once and for all from that "there's nothing I can eat" feeling!
When we're not busy creating recipes and drooling over photos of food, we're enjoying life in the sunny Bay of Plenty, New Zealand (Tauranga to be exact) though one of us can often be found sneaking away to discover inspiration for recipes in overseas destinations.