Who loves salads in the summer time? Salads that are reminiscent of lazy Mediterranean days in the sunshine, bursting with freshly picked produce skillfully combined into a work of art on the plate – a veritable feast for the eyes and stomach. I know I do!
When I tasted the Saffron Chicken Salad from Heart & Stove I was instantly transported back to the days I've spent in the South of France, eating at small local places where the food was so fresh, and the flavours so full. Every mouthful of the Saffron Chicken Salad was a joy to eat with its crunchy fennel, juicy chicken and tangy saffron orange dressing all on a bed of peppery herbs and leafy greens.
For a long time I have lamented the fact that its hard to get healthy lunches on the go, or what to eat when you get stuck at work without lunch, or when you have had enough of the hum drum lettuce, tomato, cucumber salad rut we all get stuck in from time to time. If you're gluten intolerant, lunch is often the hardest meal of the day to find, especially outside the home, a meal where typically sandwiches and nasty gluten flour filled offerings dominate in eateries.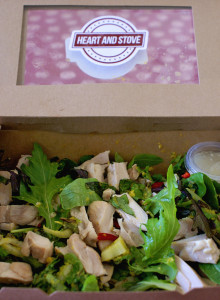 Normally I wouldn't blog about a place that is only accessible to locals (Heart & Stove is a small Tauranga NZ based business), but I was just so excited to discover someone had taken the initiative to provide a healthy, convenient and gluten free alternative to bakeries and fast food outlets for lunches that I wanted to shout out about it, and maybe encourage others to do the same in their home towns.
We also got to taste another salad that day (I was having lunch with my parents) the Superfood Chicken Salad which is an inspired assemblage of avocado, chicken, corn, kumara, leafy greens, pumpkin, spring onion and toasted almond with a pomegranate molasses dressing on the side. My dad who is also coeliac reckoned it was very tasty indeed and the perfect amount to fill him up!
Now I'm all for making food from scratch in your own home but in this instance why would you bother when you can get these delicious salads full of vibrant ingredients, ones not always easy to get at your local supermarket, delivered to your doorstep daily in time for lunch!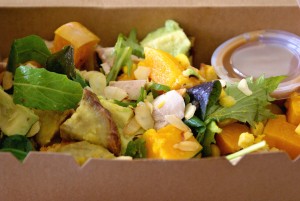 Rachel's About Page sums up the many reasons I loved Heart & Stove's salads so much and would happily have them for lunch every day. Here is the direct quote "Rachel is a trained nutritionist and an experienced chef, which means that there is equal emphasis on taste and on nutrition. Meals are nutritionally balanced and bursting with flavour, colour and texture. The result? A lunch that is as delicious as it is wholesome! Our meals are filling and energising, created with fresh veggies, whole grains, and loads of herbs.
Our incredibly moreish homemade dressings are served on the side, so your salad doesn't get soggy. Our focus is on natural, whole foods, seasonal produce, and local ingredients. While we steer clear of any restrictive diet terms, we happily cater to a variety of food allergies, sensitivities and preferences."
When I asked Rachel directly about providing gluten free salads this was her reply "I definitely cater for people who are gluten-free: most days at least one of the two salads I offer is gluten-free. However, I know that some people can be hypersensitive to gluten, so I just like to make it clear that it is not a gluten-free kitchen. That being said, I do try my hardest to prevent any cross-contamination on the gluten front!"
So if you're in the Tauranga area why not give Heart & Stove salads a try for your lunch this week and support a local business, who in turn supports growers producing fresh local ingredients. That's got to be a win-win for everyone!
For those of you who are located elsewhere I don't want you to feel entirely left out so here is the recipe that inspired the Saffron Chicken Salad that we so enjoyed Ottolenghi's Saffron Chicken & Herb Salad
Please note all of the opinions in this post are ours, not sponsored or paid endorsements. However we were provided with the salads that we have written about here free of charge.