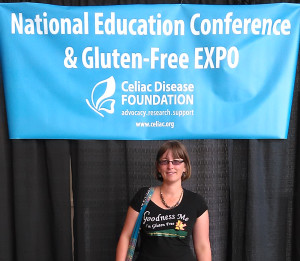 This past weekend I was very excited to be able to attend the 25th Anniversary Celiac Disease Foundation National Conference & Gluten-Free EXPO in Pasadena, California, USA.  I gather its not often someone from New Zealand actually gets to go to one of their conferences as I couldn't even register as a New Zealander on their website! But as I was already in California I wasn't going to pass up the opportunity to see what an American coeliac conference and expo was really like.
The Saturday started with a buffet breakfast, I was intrigued to see what gluten free foods would be on offer. I approached the line with a healthy appetite, I could see pancakes, bacon, eggs, sausages and pastries. However my anticipation of a yummy breakfast full off all things gluten free was quickly thwarted by a lack of ingredients displayed for the items on offer leaving no way of checking for other allergens like soy. I was very surprised by this as I would have expected a gluten free conference to have been aware of the importance of providing ingredient lists due to multiple allergies often present in Celiacs. So I proceeded to ask the buffet staff if they could please find out what the ingredients were in all the dishes, I patiently explained about my multiple food intolerances and said that I am sure I wouldn't be the only one. After much persuasion they called the kitchen looking for the original packaging. I waited and waited while my stomach rumbled, it seem to take an age before they finally returned with some of the packaging. By this time some other people with multiple allergies had also joined me. Sadly several of the products did have soy in them so were no good for me, others products they simply couldn't find the ingredients for. I wondered if this would be indicative of the day. Once I had finally filled my plate with what I could eat I joined others at a round table and enjoyed chatting to them about their experiences with being gluten free.
After breakfast it was time for the conference to begin, after the usual intros and tributes, with sessions from Joseph Murray MD, Sheila Crowe MD and Shelly Case BScRD followed by a panel discussion. I enjoyed all the speakers learning about developments in coeliac research, gluten free nutrition and the state of the gluten free marketplace with relation to regulations and the FDA. The Q&A sessions after each speaker were particularly enlightening. I have to say it gave me a deeper understanding of the challenges facing the gluten intolerant community in America, we are streaks ahead with our awareness, labeling laws and food regulations in New Zealand.
Next up I decided to explore the expo hall, I was surprised to find it quite a small expo for the population in Los Angeles with only 100 stands. This makes it similar in size to the Gluten Free & Allergy shows we have in NZ. There was quite a range of foods on offer from lentil pasta (strange texture) to vegetable gummies though I did notice a lot of the major brands were not actually selling product, only there to promote their brand.
It was fantastic to see Australian company Freedom Foods represented, one of the few things I could actually taste test! Most of the products at the expo having either soy or potato in them. Its interesting to see that in America most manufacturers are either not aware of multiple allergy sufferers or don't care that they are loosing that part of the gluten free market. We are generally much better at eliminating many of the top 8 allergens from our allergy friendly foods. I only saw one product, a snack bar, that actually said "free from top 8 allergens".
I took a break half way round the expo stands to delve into my swag bag that I had been give on entry, sadly only 3 out of the 10 or so items in there were things I could eat, so I gave the rest away. I decided that was enough disappointment for one day so finished with a tasty shot of Tito's corn vodka and headed back to my AirBnb.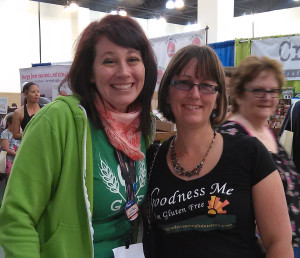 On the Sunday I was lucky enough to discover Erica Dermer from Celiac and the Beast giving a very humorous talk on the challenges on getting and dealing with a celiac diagnosis. I also had the chance to have a chat with her afterwards at her stand. It was fantastic to meet in person such an outspoken advocate for celiac diagnosis who tells it like it is in real life. If you want to know more I can highly recommend reading her book Celiac and the Beast: A Love Story Between a Gluten-Free Girl, Her Genes, and a Broken Digestive Tract
It's great to hear someone say its OK to grieve the loss of gluten, and to go through the stages of grief like anger. To get fed up with being gluten free and that not every day will be wonderful post diagnosis.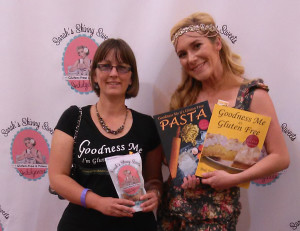 Another discovery was the delightful Sarah's Skinny Sweets, sugar free cookies which I could also taste test as they were gluten, soy and potato free. Sarah is super conscious about what goes into her cookies so that they are not only gluten free but good for you. I learned from Sarah that America doesn't have anything like our NZ Heart Foundation healthy food tick or the ability to label a product Low GI. Something she is advocating for in America so products like hers can be easily recognized on the supermarket shelves.
Other products that were favorites for me were OpaHelmut's spice rubs made from an old family recipe handed down to Astrid by her father. Lastly to finish off the expo was the discovery of Les Beaux Chocolates which had an amazing selection of delicious flavors in their range, all hand crafted using natural ingredients.
Of course with over 100 exhibitors I can't mention everything I saw and tasted there but my overall impression of the products at the expo is that America has a long way to go when it comes to making their food multi-allergy friendly and their food labeling laws leave a lot to be desired. That said it was fantastic to be able to experience an American gluten free expo. Meeting so many wonderful exhibitors and gluten free business owners who were more than happy to chat, for me was the highlight. I love talking to other business owners about their journey into gluten free business and about the gluten free market in America. So yes, I would go again to another expo if I was in the right area at the right time.