News Release – for immediate release
Homemade Pasta is Hot Right Now
If the recent MasterChef MasterClasses on pasta making left you wanting more the newly released Goodness Me it's Gluten Free PASTA cookbook from Gourmand Award winning author Vanessa Hudson delivers just that. Covering pasta making basics and beyond with 24 shapes, 18 flavours and 100 recipes this cookbook will take you on a culinary pasta making adventure that will have you turning out your own MasterPastaChef creations in no time.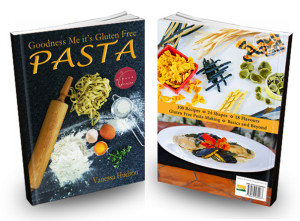 Armed with little more than a rolling pin and a few easy to find ingredients, this cookbook makes it possible to master the art of fresh homemade pasta. The easy, step by step instructions and stunning photography ensure each recipe's success. There are the everyday feed-a-family-fast recipes you would expect as well as many to excite discerning palates and entertainers alike.
Vanessa says "In this cookbook I have embraced the Mediterranean way of using the freshest, best quality (not necessarily expensive) ingredients and that is reflected in the recipes which often only incorporate a few key ingredients, thus letting each one truly shine and impart its unique flavour and texture to the dish"
Homemade egg pasta is full bodied, packed with protein and complex carbohydrates and has a lower GI index than mass produced pasta and other starchy carbohydrates. Combine that with a nutritious sauce and it's a true power packed, healthy fast food. Gluten free or not this cookbook is worth a look.
About the Author: Vanessa Hudson is the Gourmand Award winning author of the Goodness Me it's Gluten Free cookbook. A self-confessed foodie, she has travelled extensively exploring the culinary delights of six continents, including many years spent in Europe where she fell in love with the Mediterranean way of eating. She has not let the need to eat gluten free compromise her ability to enjoy cuisine from around the world but instead has used that as inspiration for her latest cookbook Goodness Me it's Gluten Free PASTA.
Coeliac Awareness Week is 19th May – 25th May 2014.
Goodness Me it's Gluten Free PASTA | By Vanessa Hudson |Published by Goodness Me Ltd
RRP $34.95 | Available from www.goodnessme.co.nz select bookstores in New Zealand, Amazon and Ingram worldwide and other leading online suppliers.
For further information, to request review copies or an interview opportunity please contact:
Vanessa Hudson at Goodness Me Ltd. Email: Vanessa@goodnessme.co.nz 
Return to Press Kit