Only logged in customers who have purchased this product may leave a review.
Related Products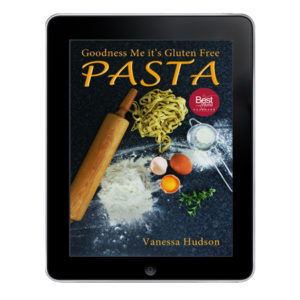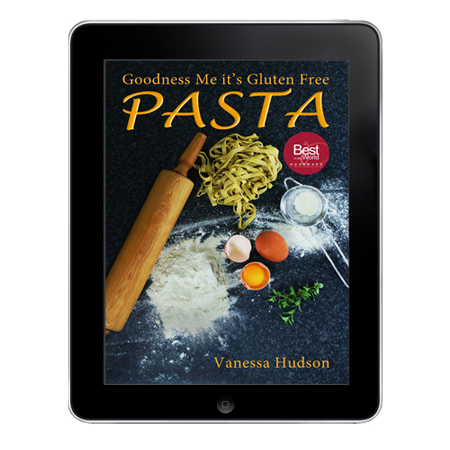 Goodness Me it's Gluten Free PASTA eBook
24 Shapes – 18 Flavours – 100 Recipes – Pasta Making Basics and Beyond
By: Mary & Vanessa Hudson
eBook – available in ePub & Kindle formats
Discover the secrets to TRADITIONAL ITALIAN PASTA MAKING with this GOURMAND "BEST IN THE WORLD" AWARD WINNING cookbook from author Vanessa Hudson. Now you don't have to be Italian or have a nonna in the family to make fabulous fresh gluten free pasta in your own home. Armed with little more than a rolling pin and a few easy to find ingredients, this cookbook makes it possible to master the art of fresh homemade pasta. The easy, step-by-step instructions and stunning photography ensure each recipe's success. There are the everyday feed-a-family-fast recipes you would expect as well as many to excite discerning palates and entertainers alike. There's even a dough recipe variation using "standard flour" so if you're not gluten free you can still enjoy making all the recipes in this cookbook.
*Please note that a download link for both file types will be delivered to you by email once the transaction payment is completed, simply choose to download the file that is the correct format for your device. There may be a small delay before you receive the link email especially if you pay by internet banking. If you receive an error notice during download this is because the file is unable to open automatically on your eReader. It will have downloaded completely to a folder in your computer, you will need to find it and shift it to the folder where your eReader stores its eBooks, or tell your eReader where to look for the file to open it. Right clicking on the file will also work selecting "open with your eReader".
You will need an eBook reader to open the files (they are not pdf's). If you don't have one a free eReader for Mobi/Kindle files can be downloaded here (it's better to install the reader first before downloading the book files): Amazon Kindle Reader
$

14.95
Add to cart