These 5 simple ingredients when mixed together transform into the most moreish buttery, pepperminty, slightly sticky popcorn you have ever tasted.
Easy to make and inexpensive it's the perfect festive season gift for friends, neighbours and work mates. But this recipe does come with a warning; it's highly addictive!
Free From: Gluten, Wheat, Eggs, Soy, Sesame, Potato Flour/Starch & Nuts
Ingredients:
4 peppermint candy canes (red and green stripes)
240g (1 cup) popping corn kernels*
80g (2.8oz) butter
18 standard size gluten free marshmallows (white)
2 teaspoons rock salt
Extra equipment:
Rolling pin or steak tenderizing mallet
Ziplock plastic bag
Large oven bag, large roasting dish or a very large bowl
Ingredient Note: *60g (¼ cup) popping corn kernels yields 4 cups of popcorn.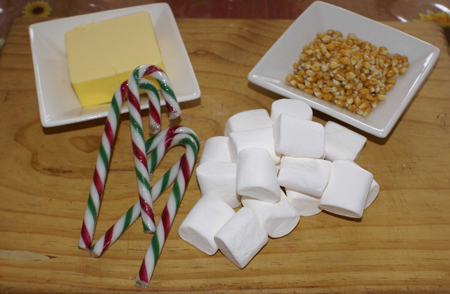 1. Unwrap candy canes and place in ziplock bag. Using the mallet or rolling pin, crush the candy canes into small pieces. Set aside.
2. Pop corn kernels in batches (in a popcorn machine or in a large dry pot with a lid on over a medium heat) and place in oven roasting bag, roasting dish or large bowl.
3. Measure rock salt into a small dish and set aside near popcorn.
4. In a saucepan melt butter and marshmallows together on a very low heat. Pushing the marshmallows into the butter as they soften, stirring constantly (using a whisk works well). The marshmallows will eventually dissolve into the butter (after about 10 min) to form a smooth sauce when whisked together.

5. Quickly drizzle the marshmallow sauce all over the popcorn and mix through the popcorn thoroughly until the popcorn is evenly coated. Sprinkle over the salt and the crushed candy canes and shake/mix until all the loose candy cane pieces have stuck to the popcorn. (If using a oven roasting bag you can get quite vigorous with your mixing, massaging the popcorn to ensure it is evenly coated with all the ingredients).
6. Spread out on baking paper lined baking sheets or roasting pans and if possible refrigerate uncovered overnight as this makes the popcorn set and crisp up.
7. Package in Christmas themed packaging or store in an airtight container. Once packaged the popcorn can be kept at room temperature.