News Release – for immediate release
Goodness Me it's Gluten Free PASTA

nominated for Gourmand Best Italian Cuisine Cookbook in the World
The 2015 Gourmand Award for Best Italian Cuisine Cookbook in New Zealand has been scooped up by Goodness Me it's Gluten Free PASTA which now goes on to compete for the Best in the World title which will be announced at the Gourmand World Cookbook Awards in Yantgi China on June 9th.
In Goodness Me it's Gluten Free PASTA author Vanessa Hudson guides you through pasta making basics and beyond with 24 shapes, 18 flavours and 100 recipes. This cookbook takes you on a culinary pasta making adventure that will have you effortlessly turning out your own MasterChef worthy creations in no time.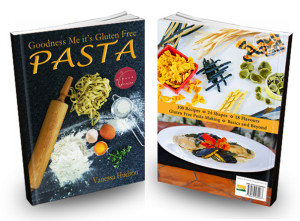 Vanessa says "I am very passionate about this cookbook and hope that this award, from such a prestigious organisation as Gourmand will encourage people to give pasta making a go. If you have never tried fresh homemade pasta you really are missing out – it's so simple to create in your own kitchen, as Italians have been doing for centuries, and the flavours are just sensational. Although all the recipes in this cookbook are gluten free there is a recipe variation for those wanting to make pasta dough with wheat flour".
The Gourmand Awards founded in 1955 celebrate cookbook publishing worldwide and are often referred to as the "Oscars" of the cookbook world with many world renowned cookbook authors being nominated each year including New Zealand's own Annabel Langbein, Julie Busio, Josh Emett, Nadia Lim, Jo Segar and Michael Van de Elzen to name just a few.
About the Author: Vanessa Hudson is a previous Gourmand Award winner with her baking focused cookbook Goodness Me it's Gluten Free. A self-confessed foodie, she has travelled extensively exploring the culinary delights of six continents, including many years spent in Europe where she fell in love with the Mediterranean way of eating. She has not let the need to eat gluten free compromise her ability to enjoy cuisine from around the world but instead has used that as inspiration for her latest cookbook Goodness Me it's Gluten Free PASTA.
Goodness Me it's Gluten Free PASTA | By Vanessa Hudson |Published by Goodness Me Ltd
RRP NZ$34.95 | Available from www.goodnessme.co.nz select bookstores in New Zealand, Amazon and Ingram worldwide and other leading online suppliers.
Vanessa's previous gourmand awards include;
Best First Cookbook NZ and 3rd Best Health Cookbook in the World for Goodness Me its Gluten Free.
For further information, to request review copies or an interview opportunity please contact:
Vanessa Hudson at Goodness Me Ltd. Email: Vanessa@goodnessme.co.nz
Return to Press Kit