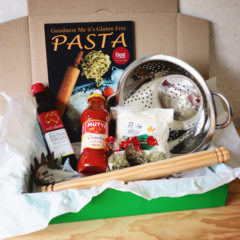 Gluten Free Pasta Making Discovery Box
Have you ever wanted to learn how to make pasta? Then this gluten free Pasta Making Discovery Box has everything you need to get started on your pasta making adventure today.
Pasta making is also a fantastic activity for children as it really is that easy and best of all they can eat what they create! Perfect to keep them entertained during the holidays.
The Gluten Free Pasta Making Discovery Box contains:
The Gourmand Award winning Goodness Me it's Gluten Free PASTA cookbook
Goodness Me Gluten Free Pasta Mix – as used in the cookbook (blend recipe also included)
Extra virgin olive oil
Tomato passata
Selection of Italian herbs – 3 x sample size
Hand crafted rolling pin
Pasta stirrer/server
Family size colander
Need a Pasta Machine? After adding the Gluten Free Pasta Making Discovery Box to your cart, you can click here to add a pasta machine to your order.
$

94.47
Add to cart