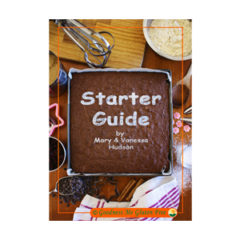 Gluten Free Cooking Starter Guide PDF
This guide is packed with our best tips and the "must know" info to get you started on your way to gluten free cooking success!
By: Mary & Vanessa Hudson
eBook – available in PDF format only
This value packed guide includes;
A short background on Goodness Me
Where to being with gluten free cooking and baking
Common cooking measurements, oven conversions and abbreviations
Substitutions for other allergies and intolerances
How to choose gluten free ingredients in the grocery store
Reading a recipe
Scaling recipes to suit your "family" size
Recipes for the Goodness Me Baking and Bread Blends, the only two blends (gluten free flour mixes) needed for our recipes

Pantry staples guide
Essential equipment guide – NO expensive specialised equipment is needed with our recipes
A contents page to help you keep your Goodness Me recipe collection organised
5 gluten free recipes to get you started
*Please note a download link for this guide will be delivered to you by email once the transaction payment is completed. There may be a small delay before you receive the link email especially if you pay by internet banking. This guide is covered by copyright and is supplied to the purchaser for printing and personal use by the purchaser only, and is not for redistribution or republication.
$

3.47
Add to cart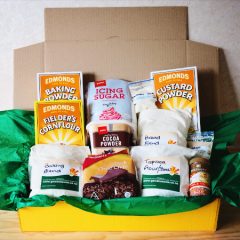 Gluten Free Baking Discovery Box
If the thought of learning how to bake gluten free makes you break out in a cold sweat then you need the Goodness Me Baking Box which is packed full of everything gluten free to get you started with baking irresistible gluten free goodies.

This Gluten Free Baking Discovery Box makes a perfect gift for the coeliac or gluten intolerant person in your life, to show them just how much you care.
The Gluten Free Baking Discovery Box contains:
The Gourmand Award winning Goodness Me it's Gluten Free Baking Cookbook in eBook format*
Goodness Me Baking Blend – as used in the cookbook, blend recipe included
Sample Size Xanthan Gum
Goodness Me Bread Blend – as used in the cookbook, blend recipe included
Sample Size Active Dried Yeast
Tapioca Flour
Baking Powder
Cornflour
Custard Powder
Icing Sugar
Cocoa Powder
Dark Chocolate Chips
Coloured Sprinkles
Want "normal" sized gluten free bread? After adding the Gluten Free Discovery Box to your cart, you can click here to add our fantastic Jumbo Bread Tin to your order.
*eBook is downloadable from a link you will receive once the order payment has been processed. Choose from a Kindle version or ePub version (you will need an eReader app to open either of these versions, see the eBook page for more details)
$

64.97
Add to cart